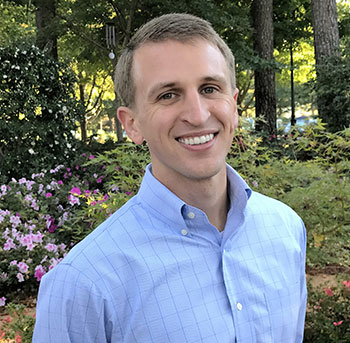 Dr. Brandon Castor was raised in Cary, NC and lived there until he attended NC State University where he received his BS in Biology.  After 4 years in Raleigh, he moved to Richmond, VA to attend dental school at Virginia Commonwealth University.
Following dental school, Dr. Castor returned to North Carolina and has been working in Cary and Fayetteville, serving patients in both towns with quality, compassionate dental care since 2011.  He enjoys taking continuing education credit throughout the year to stay current on the newest procedures in dentistry.  Dr. Castor appreciates being an active member of the American Dental Association and the NC Dental Society, and looks forward to joining the Guilford County Study Club as soon as he can.
Dr. Castor enjoys all aspects of dentistry, from simple fillings and cleanings, to more extensive crowns, cosmetic procedures, root canals and extractions.  Patients of all ages are welcome to the office where they will find a dentist who treats each patient as an individual and will take time to discuss all aspects of their care, when they meet Dr. Castor.
Married for just over a year to his lovely wife, Amanda, Dr. Castor looks forward to moving to Greensboro in the next few months to become an active member in the community.  Dr. Castor spends his free time with his dog, Finley, helping with mission work at his church, running, hiking, and supporting the NC State Wolfpack.  He and the rest of the team at Castor Family Dentistry look forward to meeting you over the next few months.